"A fascinating sci-fi story of survival, WHEN EARTH SHALL BE NO MORE will keep readers on their toes until the very end." -- Joelle Charbonneau, New York Times Best Selling Author of THE TESTING
"Awad and O'Sullivan's WHEN EARTH SHALL BE NO MORE is the perfect sci-fi adventure: compelling characters, a frantic race against time, and a daring mission with the fate of humanity hanging in the balance. A dimension-bending page-turner—no matter what galaxy you may inhabit!" -- Alan Orloff, two-time winner of the ITW Thriller Award and author of I PLAY ONE ON TV.
"WHEN EARTH SHALL BE NO MORE hit every emotion as I tried to figure out who to trust in this deftly handled dual timeline sci-fi mystery. The characters drew me into a world so realistic and unique, I had a hard time putting this book down." -- Sherry Harris, Agatha Award nominated author of the Sarah Winston Garage Sale and Chloe Jackson Sea Glass Saloon mysteries
"Not only is WHEN EARTH SHALL BE NO MORE an imaginative, intelligent picture of humanity's potential future, but it's also a compassionate tale of parenthood, of identity, of the need for people to form relationships no matter their circumstance. O'Sullivan and Awad delve into complicated concepts with ease, and lovingly introduce readers to fully developed, emotionally layered characters along the way. A must read for fans in and out of science fiction." -- E.A. Aymar, author of THE UNREPENTANT and THEY'RE GONE
"What a great story--it's full of surprises, suspense, and most of all, humanity. I was rooting for these refugees every step of the way as they hurtle through space, desperately hoping to find a new planet to call home. This is my favorite kind of science-fiction, a total page-turner with big ideas and lots of heart." -- Adam Meyer, screenwriter/author of THE LAST DOMINO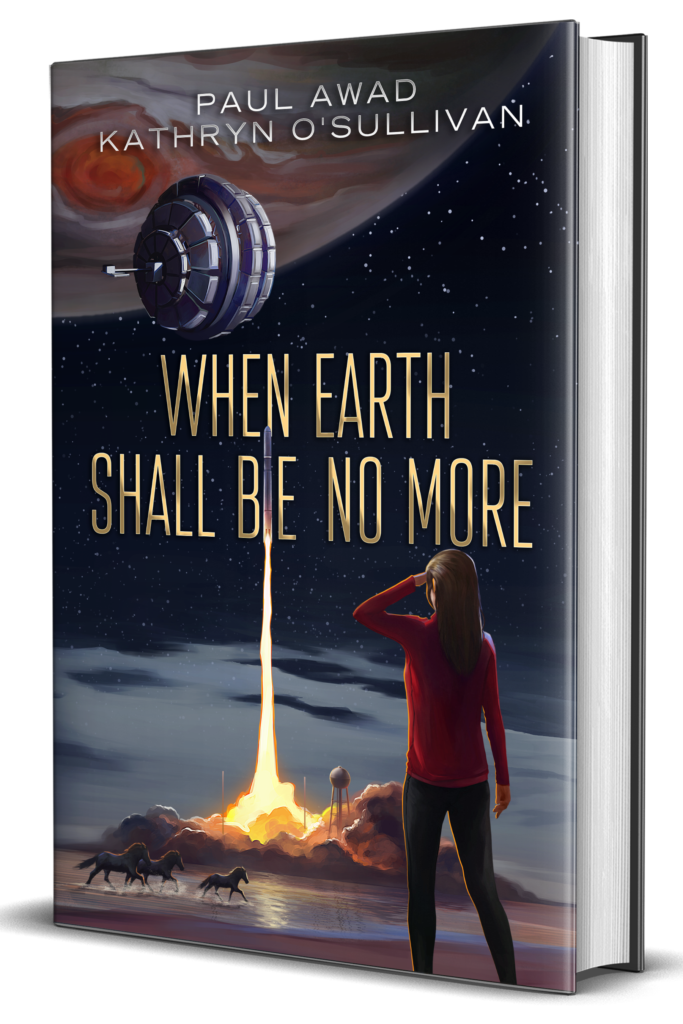 WHEN EARTH SHALL BE NO MORE Wins 2023 IPPY Award
Paul and I are honored and excited to announce that WHEN EARTH SHALL BE NO MORE has been named a 2023 Bronze Medal IPPY Award Winner in Science Fiction by the Independent Publisher Book Awards. Special thanks to our wonderful editor, Ron Sauder, at Secant Publishing.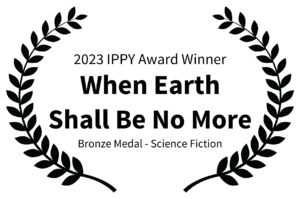 Bonsai & Sake and Crime & Wine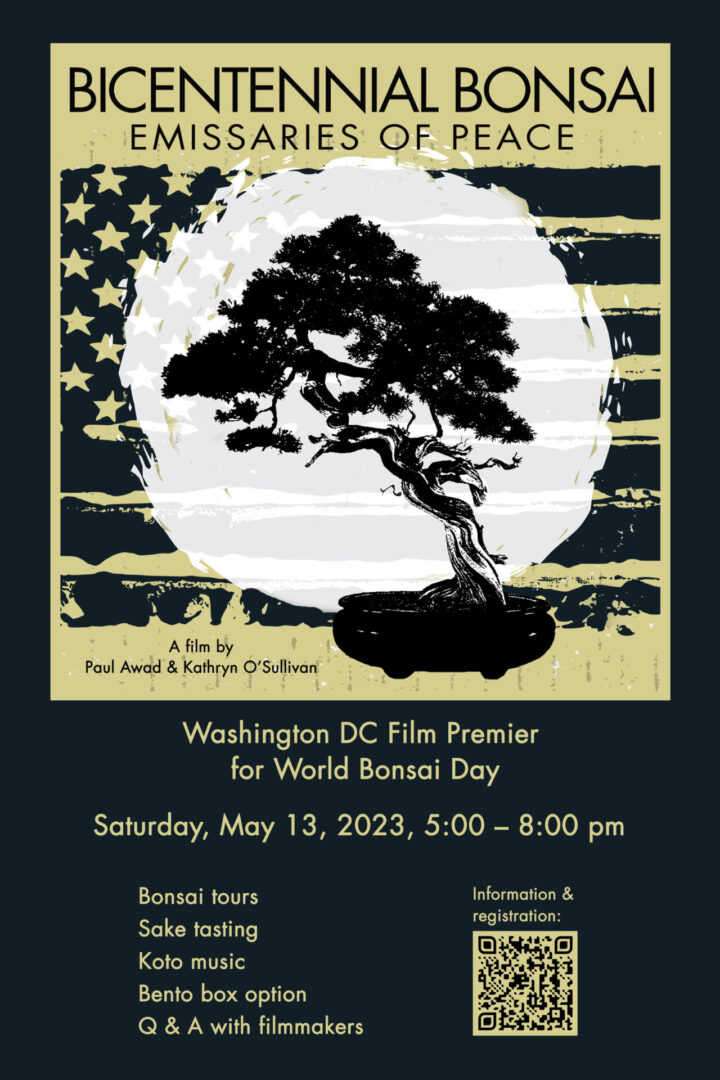 On Saturday, May 13, 2023, BICENTENNIAL BONSAI: EMISSARIES OF PEACE had its Washington, DC premiere at the U.S. National Arboretum for World Bonsai Day. Paul and I thoroughly enjoyed the festivities and participating in the post-screening Q&A.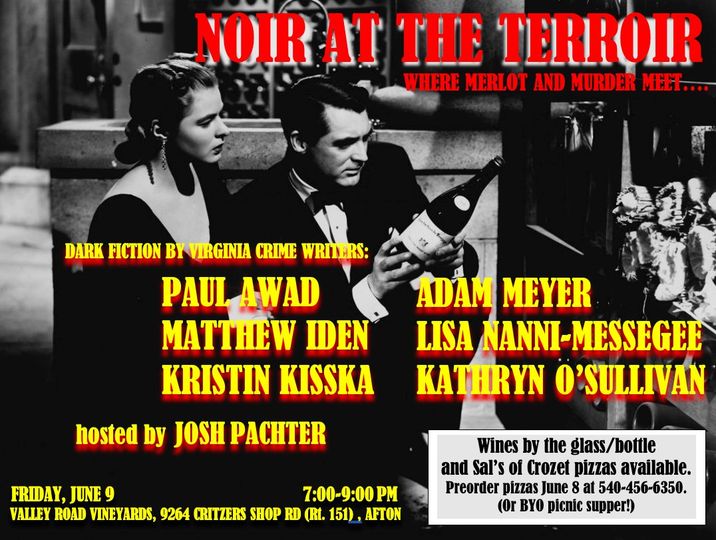 On Friday, June 9, 2023, Paul and I had a blast reading a new crime story for Noir at the Terroir! The evening was hosted by Josh Pachter and featured stories from local writers. Valley Road Vineyards provided the fabulous setting and wine.
Suffolk Mystery Authors Festival 2023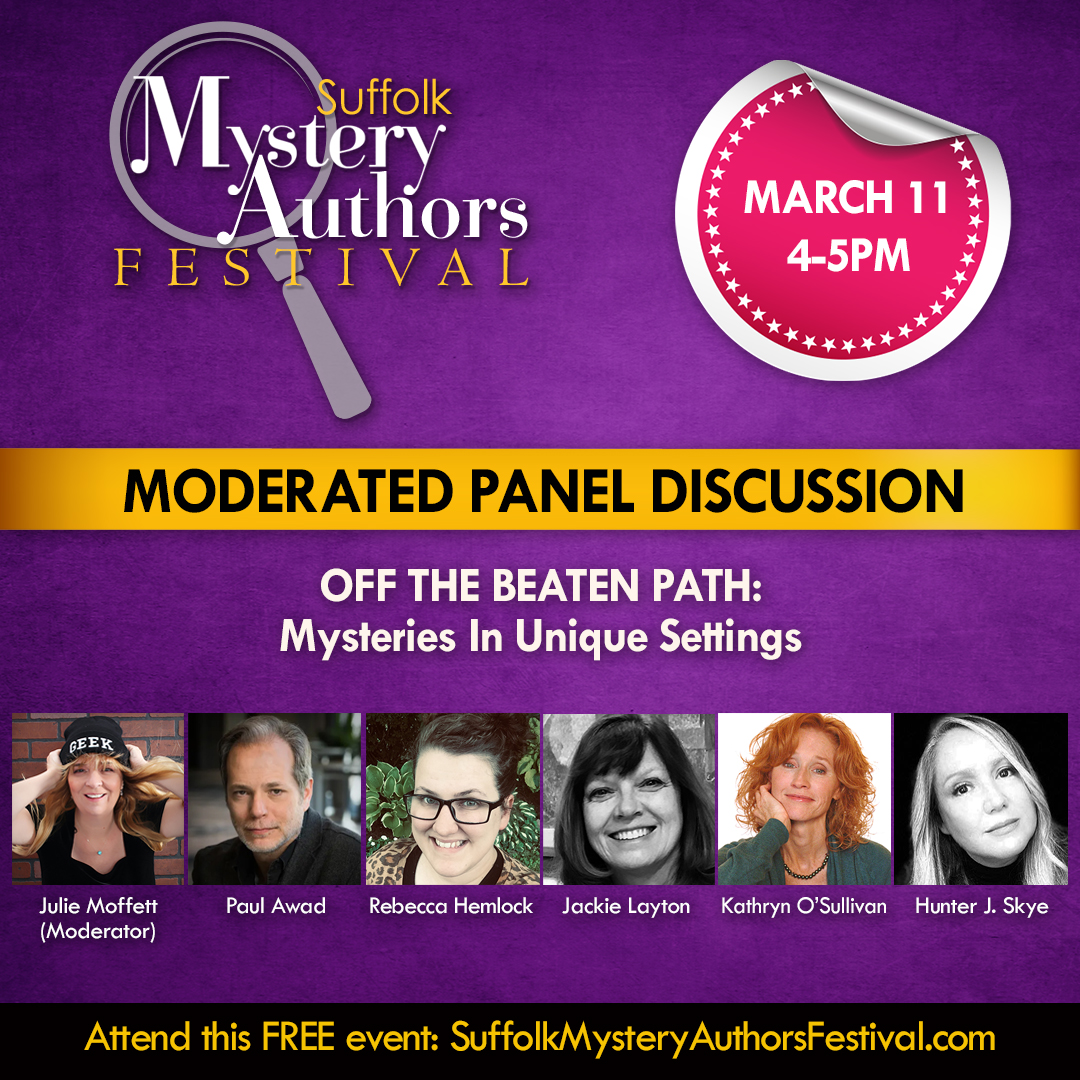 On Saturday, March 11, 2023, the Suffolk Tourism office hosted its annual Suffolk Mystery Authors Festival. I was excited to return to this wonderful event and participate in the "Off the Beaten Path: Mysteries in Unique Settings" panel with a group of fabulous authors. According to the Suffolk Tourism office, approximately 400 people attended the event. It was so great meeting readers and fellow writers in person again! Hats off to Katie Kelley and the amazing SMAF staff!
BICENTENNIAL BONSAI Wins Best Documentary Short Award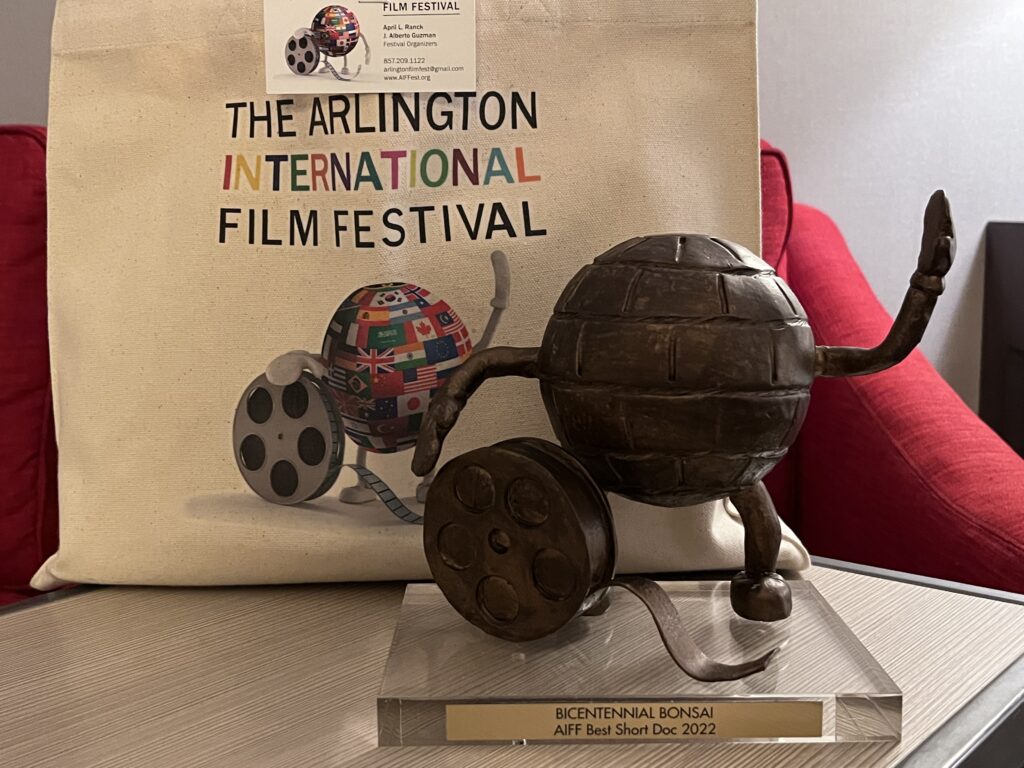 On November 6, 2022, BICENTENNIAL BONSAI: EMISSARIES OF PEACE screened at the Arlington International Film Festival at the historic Capitol Theatre in Arlington, Massachusetts. Paul Awad and I were delighted to participate in a post-screening audience Q&A and honored to receive the award for Best Documentary Short.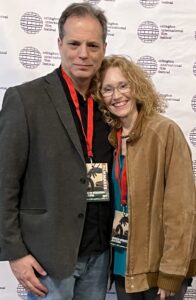 WHEN EARTH SHALL BE NO MORE 2022 Recap
Paul and I were delighted to start the summer with the Memorial Day weekend launch of WHEN EARTH SHALL BE NO MORE at Sundial Books (great store featured in the book!) in Chincoteague, Virginia. We had a great time with bookstore owners Jane and Jon Richstein and new readers. Our next stop was The Greyhound (a gem of an independent store) in Berlin, Maryland where we met owners Susan and Maury Wimbrow and enthusiastic science fiction readers.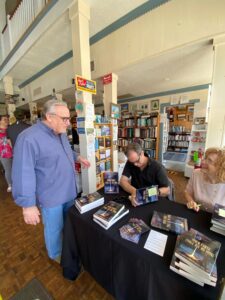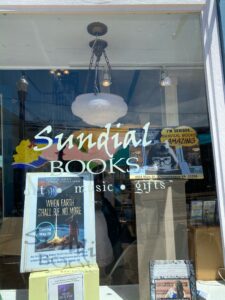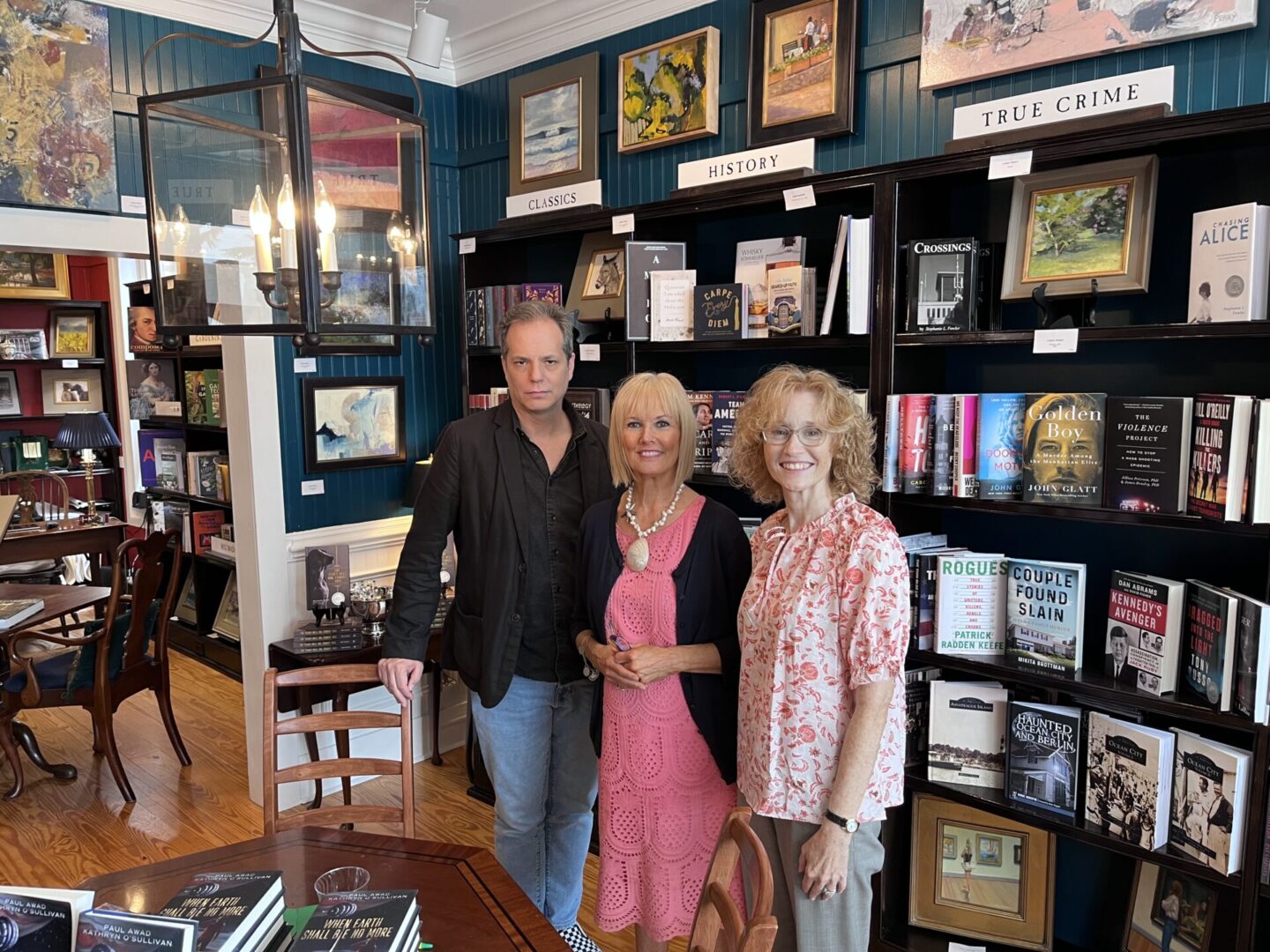 After that it was on to Browseabout Books in Rehoboth Beach, Delaware where a dear friend surprised Paul and I! We capped off the summer with a return to Sundial Books and then an Author Salon Zoom event with Kathy Harig at Mystery Loves Company. Our fall events included the always interesting Creatures, Crimes & Creativity Con (loved our panels!), the fun Cascades Library Eat Local Read Local community event, a return to The Greyhound to chat with the Indie Book Club (thanks, Susan, for the invite!), and the Sisters in Crime Chessie Chapter's Mystery Author Extravaganza at the Reston Regional Library (thanks, Scrawl Books, for selling books at the event). We look forward to an exciting 2023!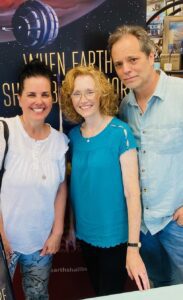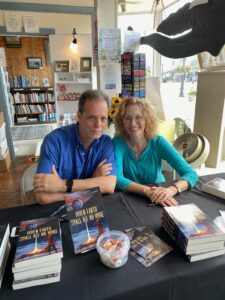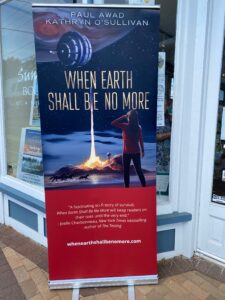 BICENTENNIAL BONSAI Wins Utopian Vision Award
On November 21, 2021, BICENTENNIAL BONSAI: EMISSARIES OF PEACE screened at the Utopia Film Festival in the Historic Old Greenbelt Theatre.
The film was honored with the Utopian Vision Award. The award was announced to filmmakers Paul Awad and Kathryn O'Sullivan at a post-screening Q&A with the audience. The award honors "the best work in any category which reflects the value of cinema to help create a better world."
The film and event were covered by Susan Harris of Garden Rant.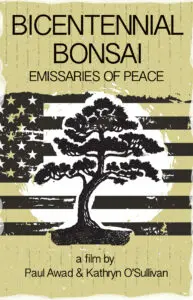 BICENTENNIAL BONSAI Screens at Loudoun Arts & Utopia Film Festivals
BICENTENNIAL BONSAI: EMISSARIES OF PEACE, the documentary I wrote and co-produced with Paul Awad, screened at the Loudoun Arts Film Festival (September 10-13 & 17-19, 2021) and the Utopia Film Festival (November 19-22, 2021). The film chronicles the historic gift of 53 priceless bonsai from Japan to the United States in celebration of the U.S. Bicentennial.
- - - - - - -
"If more people did bonsai, there would be more peace in the world." - Saburo Kato, bonsai master
Gravitas Ventures Releases A SAVAGE NATURE on VOD
On August 3, 2021, Gravitas Ventures releases A SAVAGE NATURE, the crime drama/thriller feature I produced and co-wrote with Paul Awad.
The film stars Joanna Whicker, Steve Polites, Jon Hudson Odom, Joseph Carlson, Frank Riley III, and Rayanne Gonzales.
Film Synopsis: On the evening of their wedding anniversary, a trouble couple attempts to make a fresh start, but things take an unexpected turn when sinister strangers invade their home. As the night unfolds, loyalties shift, secrets spill, and lives shatter.
Go to savagenaturemovie.com to check out Cable On Demand, Internet On Demand, DVD, and Blue-Ray availability.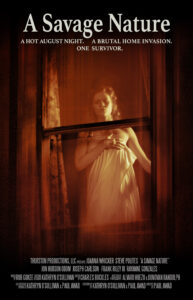 THE BEAT OF BLACK WINGS Anthology Nominated for 2021 Anthony Award
I'm thrilled to learn THE BEAT OF BLACK WINGS: CRIME FICTION INSPIRED BY THE SONGS OF JONI MITCHELL has been nominated for the 2021 Anthony Award for Best Anthology. The anthology of twenty-six stories includes my short story "Big Yellow Taxi." "Big Yellow Taxi" is about a music professor who plots the demise of an upstart colleague in an effort to restore harmony to her world. The anthology is edited by Josh Pachter and available in hardcover, paperback, and ebook from Untreed Reads.