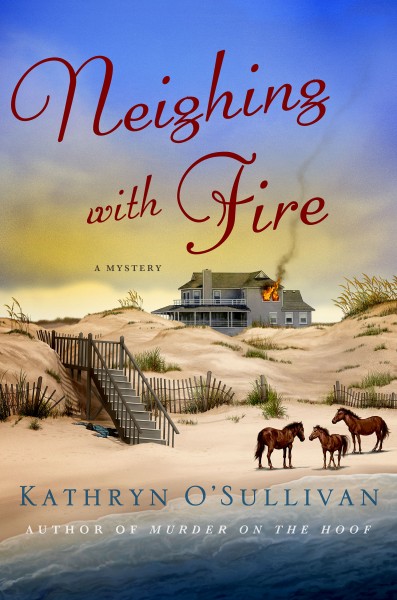 Pacific Book Awards Finalist in Suspense, Library of Virginia Literary Award Nominee              
Fire Chief Colleen McCabe is enjoying a quiet summer in the Outer Banks and a budding romance with Sheriff Bill Dorman. However, her peaceful start to the tourist season is shattered when a tropical storm blows through Corolla and unearths a body buried under a vacation home boardwalk. When callous land developer Denny Custis dies in a suspicious fire, Colleen has a hunch the two deaths are linked.
As she and Bill investigate, they discover that virtually everyone has had a beef or run-in with Denny and a motive for murder. When Pinky Salvatore becomes the primary suspect, Colleen is determined to clear his name. Despite his and Denny's well-documented housing development rivalry, Colleen is convinced that the real killer is still out there.
While digging through an ever-widening list of suspects, Bill and Colleen become embroiled in a vicious battle between those committed to saving Corolla's wild horses, those protecting the endangered piping plover shore bird, and a greedy tour company who would destroy their habitats.
Neighing with Fire is the third entry in Kathryn O'Sullivan's cozy series known for its colorful characters, strong setting and thoroughly charming humor.
Neighing with Fire Book Trailer
Accolades and Reviews for Neighing with Fire
Shelf Life Magazine Reviews Neighing with Fire
"There is certainly nothing 'neigh'gative about this most impressive work of fiction." – Ron Heimpel, Shelf Life Magazine.  Read full issue
Jessica Sinn of Chick Lit Café Reviews Neighing with Fire
"If you love a good light-hearted mystery with romantic tension, beautiful scenery and eccentric, animal-loving characters, this mystery series is for you! With so many suspects to choose from, I enjoyed playing the guessing game until the very last chapter." – Jessica Sinn, Chick Lit Café.  Read full review
Joseph B. Hoyos of Gumshoe Review Reviews Neighing with Fire
"Kathryn O'Sullivan's third entry in the Colleen McCabe series, Neighing with Fire (following Murder on the Hoof and its debut, Foal Play) is the most delightful, most intriguing one yet… Sunny beaches; cute, adorable pets; wild Mustangs; feuding characters; fiery explosions; and gruesome deaths make Neighing with Fire an excellent installment in a unique cozy series that continues to improve with age." – Joseph B. Hoyos, Gumshoe Review Read full review
Dru's Book Musings Reviews Neighing with Fire
"Boasting a great cast of characters, engaging dialogue and a feel-good atmosphere, this is my favorite book thus far and I look forward to the next book in this delightfully captivating series." – Dru's Book Musings. Read full review
Booklist Reviews Neighing with Fire
"O'Sullivan's well-crafted mysteries invoke the senses with rich details of the scenery and pace of life in the popular North Carolina tourist area. Colleen's confusion about her romantic life adds an endearing facet to her otherwise tough-as-nails personality. This one will attract both readers of romance-centric cozies and those who favor Bill Crider's small-town procedurals." – Amy Alessio, Booklist
Publishers Weekly Reviews Neighing with Fire
"… diverting…The upcoming New Age-y nuptials of firefighter Chip and the town residents' intense interest in Colleen and Bill's budding relationship provide an amusing counterpoint." – Publishers Weekly Read full review
The Mutt Cafe Reviews Neighing with Fire
"Neighing with Fire is a terrific cozy mystery with an interesting setting and an appealing heroine…a great choice for mystery lovers of all ages, particularly those who love animals." – The Mutt Café. Read full review
The Book Lover's Best Friend Reviews Neighing with Fire
"The setting for this book was beautiful and helped me forget for a little while that I am buried under 6 feet of snow… A great read for any time of year." – The Book Lover's Best Friend. Read full review
Kirkus Reviews Reviews Neighing with Fire
"Fans will be pleased by the way O'Sullivan's third (Foal Play, 2013, etc.) builds the relationship between characters." – Kirkus Reviews