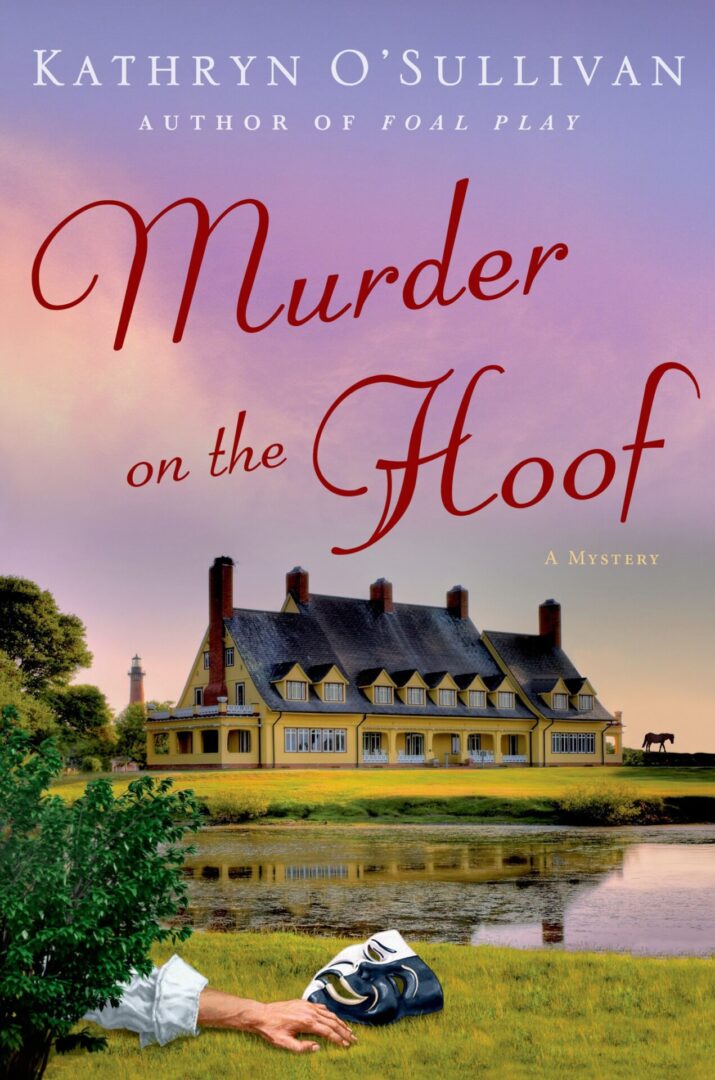 It's mid-August in the Outer Banks village of Corolla, North Carolina and Fire Chief Colleen McCabe is conducting rookie training and spending increasingly more time with her best friend, Sheriff Bill Dorman. The wild horses have been relocated to the sanctuary, and the town is occupied with the upcoming local theatre production. All is right with the world.  But when a member of the acting troupe is found dead in the dunes and Bill's ex-fiancée arrives in town for a film shoot, Colleen knows trouble is back with a vengeance.
When a second member of the theatre company is discovered dead at the Whalehead Club, Colleen is forced to put aside her feelings about her relationship with Bill and work with him to uncover who is murdering the thespians and why. She discovers as much drama offstage as on and quickly finds herself swept up in the intrigue of the community theatre group and struggling to keep her men at the firehouse focused. As the danger mounts, Bill warns her off the investigation. But despite his warning, Colleen is determined to stop the killer before he or she strikes again – to her own peril.
Murder on the Hoof Book Trailer
Selected Book Trailer of the Day by Shelf Awareness
Accolades and Reviews for Murder on the Hoof
Melissa Blanchard Book Corner Reviews Murder on the Hoof
"A mystery that kept me guessing until the very end. Well developed characters and plot make this book a great read." – Melissa Blanchard Book Corner. Read full review
Maureen Bouffard of I Love A Mystery Reviews Murder on the Hoof
"Wild Spanish Mustangs, local eccentrics, lovable pets, then add a local community theater fund raiser and author O'Sullivan has a fun read for your summer pleasure. I loved this crazy tale of the female fire chief, Colleen McCabe, and her sometimes boyfriend, Sheriff Bill Dorman… This is a great sequel to author O'Sullivan's award winning first book in this series, FOAL PLAY." – Maureen Bouffard, I Love A Mystery  Read full review
The Outer Banks Voice Covers Book Signings
"The Colleen McCabe mystery series is the hottest new entry in Outer Banks fiction." – Russ Lay, The Outer Banks Voice
Jessica Sinn of Chick Lit Cafe Reviews Murder on the Hoof
"This is a fun jigsaw-puzzle of a mystery that will keep you guessing until the climactic town theater production.  What really makes this mystery series special is the protagonist.  I love that she's defying gender roles by heading up a fire department." – Jessica Sinn, Chick Lit CaféRead full review
Mysterious Reviews Reviews Murder on the Hoof
"The storylines in Murder on the Hoof are set up nicely, and interplay with each other well… All in all, a light, entertaining entry in this series." – Mysterious Reviews
Joseph B. Hoyos of Gumshoe Review Reviews Murder on the Hoof
"With its likeable, respectable heroine; quirky, humorous characters; evil villain; sun-drenched setting; adorable pets; wild Spanish Mustangs; and an Agatha Christie-like whodunit, cozy readers and animal lovers are going to want to take this novel with them on their summer vacations. Readers who live on the East Coast will wish to visit Corolla themselves.  It truly is a beautiful place."— Gumshoe Review Read full review
Dru's Book Musings Reviews Murder on the Hoof
"Step inside this wonderfully executed story where the residents are a friendly and eclectic group of people who will delight you with their interaction and dialogue… The author did a great job in keeping me mystified by the murders with plenty of suspects and some surprising twists that added to this whodunit." – Dru's Book Musings
Booklist Reviews Murder on the Hoof
"An amiable mystery, sure to interest fans of Margaret Maron's Deborah Knott series, also set in North Carolina." – Booklist
Romantic Times Book Reviews Reviews Murder on the Hoof
"O'Sullivan's plotline is… intriguing and her cast of characters is hilarious." – RT Book Reviews
Publishers Weekly Reviews Murder on the Hoof
"… O'Sullivan's stylish sequel to 2013's Foal Play… The author makes good use of the Outer Banks setting, seamlessly weaving in a few of the area's tourist attractions, as well as its protected wild horses, into the plot." – Publishers Weekly. Read the full review at Publishers Weekly.
Ann Holt of Book Keeping Reviews Murder on the Hoof
"Using the Wild Horses of Corolla as a center piece, both stories feature Colleen McCabe, the Fire Chief and her budding relationship with Sheriff Bill Dorman.  Throw in a host of eccentric locals (this time involved with putting on a community theater production to raise money for the horses), a famous actress in town to film a movie, a couple of unexpected deaths, and you have a delightful beach read." – Ann Holt, Book Keeping  Read the review at Book Keeping.