When Earth Shall Be No More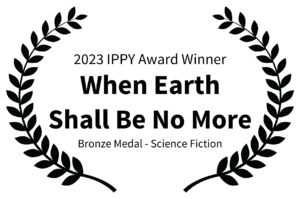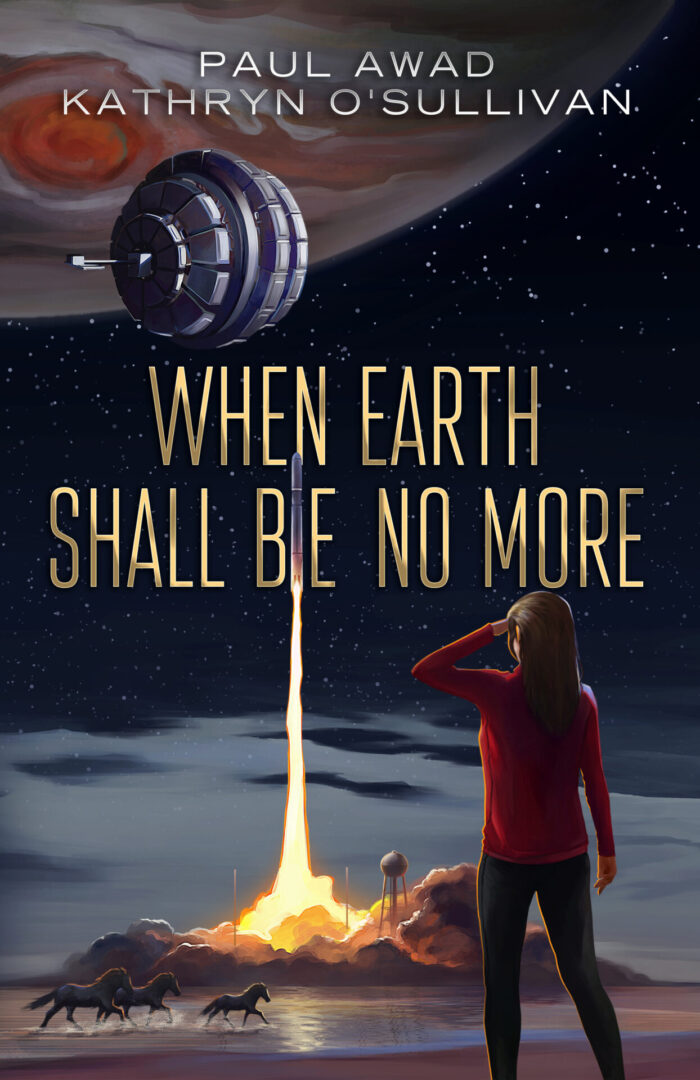 An intriguing debut science fiction thriller featuring a scientist heroine, the multiverse, and a NASA spaceport on Wallops Island, Virginia.
Environmental scientist Constance Roy is one of forty-nine refugees rescued from Earth's destruction and transported to the ark spaceship Orb by an automaton race called the Curators. Twelve months have passed since their rescue. But now, with the ship's orbit decaying, the refugees seem doomed to crash into Jupiter's fiery belly.
In a parallel universe on present-day Earth, another version of Constance seeks answers to the questions that have haunted her since childhood: How and why did her mother die? The head of a mysterious corporation housed at NASA's Wallops Flight Facility near Chincoteague can give her the answers, but not without a price.
Two timestreams collide when the Constance on Earth discovers that Nicolas, her son, has the ability to save the Orb and its inhabitants. Now she must battle treacherous Curators wishing to destroy Nicolas, while on the Orb, another Constance must fight to save the ship from Jupiter's fatal pull.
Only together can they save their son - and future generations of humankind.
Available in hardcover, paperback & eBook
When Earth Shall Be No More Book Trailer
Advance Praise from Joelle Charbonneau, Author of The Testing
"A fascinating sci-fi story of survival, WHEN EARTH SHALL BE NO MORE will keep readers on their toes until the very end." – Joelle Charbonneau, New York Times Best Selling Author of THE TESTING
Advance Praise from Alan Orloff, Author of I Play One On TV
"Awad and O'Sullivan's WHEN EARTH SHALL BE NO MORE is the perfect sci-fi adventure: compelling characters, a frantic race against time, and a daring mission with the fate of humanity hanging in the balance. A dimension-bending page-turner—no matter what galaxy you may inhabit!" -- Alan Orloff, two-time winner of the ITW Thriller Award and author of I PLAY ONE ON TV.
Advance Praise from Sherry Harris, Author of the Sarah Winston Garage Sale and Chloe Jackson Sea Glass mysteries
"WHEN EARTH SHALL BE NO MORE hit every emotion as I tried to figure out who to trust in this deftly handled dual timeline sci-fi mystery. The characters drew me into a world so realistic and unique, I had a hard time putting this book down." -- Sherry Harris, Agatha Award nominated author of the Sarah Winston Garage Sale and Chloe Jackson Sea Glass Saloon mysteries
Advance Praise from E.A. Aymar, Author of The Unrepentant and They're Gone
"Not only is WHEN EARTH SHALL BE NO MORE an imaginative, intelligent picture of humanity's potential future, but it's also a compassionate tale of parenthood, of identity, of the need for people to form relationships no matter their circumstance. O'Sullivan and Awad delve into complicated concepts with ease, and lovingly introduce readers to fully developed, emotionally layered characters along the way. A must read for fans in and out of science fiction." -- E.A. Aymar, author of THE UNREPENTANT and THEY'RE GONE
Advance Praise from Adam Meyer, Author of The Last Domino
"What a great story--it's full of surprises, suspense, and most of all, humanity. I was rooting for these refugees every step of the way as they hurtle through space, desperately hoping to find a new planet to call home. This is my favorite kind of science-fiction, a total page-turner with big ideas and lots of heart." -- Adam Meyer, screenwriter/author of THE LAST DOMINO